One of the best Belgian waffle toppings you can easily make at home is this roasted peach maple syrup. It's not only healthy, but also particularly flavorsome, especially if you pair it with cinnamon honey butter that will make the waffles softer, and slightly moist.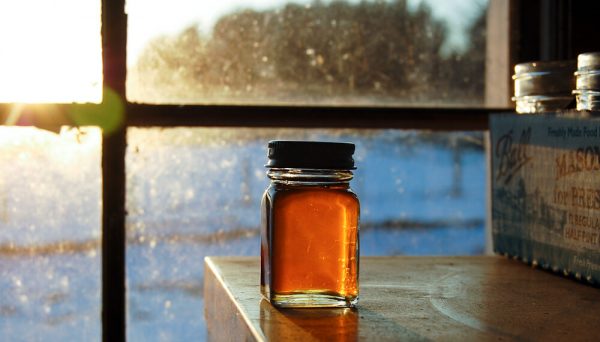 Roasted peaches maple syrup
| | |
| --- | --- |
| Roasted peaches maple syrup | |
Preheat your oven to 350 degrees. Put the chipped peaches on a baking sheet, tossing them with coconut oil, cinnamon, and a pinch of salt.

Roast for 30 minutes-35 minutes, flipping them once or twice until they become caramelly and soft.

Place a saucepan over low heat, add the maple syrup and the now roasted peaches, and heat them until the syrup becomes completely soft.

If you want to pair this topping with cinnamon honey butter, mix the cinnamon, the softened unsalted butter, honey and 1 pinch of salt until combined.

When serving the waffles, make sure to put the roasted peach maple syrup on top of the cinnamon honey butter to make it taste incredible.
The Vermont Maple Syrup depicted was produced by Sterling College students in Craftsbury Common, Vermont.
Image Credits Sterling College