A gluten-free Belgian waffle? If you're struggling with gluten intolerance, it can be super frustrating to alter your dietary habits and exclude your favorite food items like Belgian waffles. Lucky for us, modern culinary innovations have solved this problem by offering alternative baking add-ins that are safe for those with food allergies, or those who simply want to reduce the gluten in their diet. If you're looking to cut down on your gluten intake and add more iron and fiber into your diet, switching to alternative flour made with coconut or rice is also a great healthy option.
Don't lose the flavor or fluffy texture.
The beauty of this gluten-free Belgian waffle recipe is that you don't lose the delicious flavor and fluffy texture of the traditional Belgian waffle. Using carefully proportioned ingredients, such as coconut or rice flour, gluten-free baking soda, and eggs, you'll recreate the magic of the everyday waffle—in fact, you may not even know the difference. The eggs are separated and whipped to produce thick airy waffles, while the butter and sugar create a perfectly chewy outer shell. Here's to enjoying your gluten-Free Belgian waffles without compromising on flavor!
Finding your own favorite gluten-free Belgian waffle recipe
There is nothing quite like enjoying the homemade luxury of a good gluten-free Belgian waffle. Rather than spending your money at the local waffle truck, make your batter at home and experiment with different variations until your recipe is perfected. As a breakfast or dessert, this DIY gluten-free waffle recipe is perfect for those with gluten allergies or dietary restrictions, allowing them to enjoy the unmatched taste of a freshly made waffle.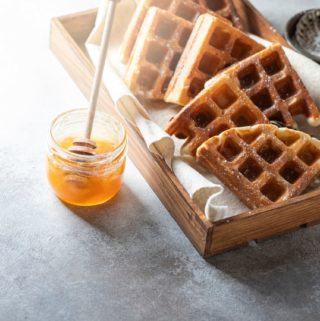 Gluten free Belgian waffles recipe
Ingredients  
4

Eggs

1

tablespoon

Maple Syrup

Or another sweetener of your choice like agave, granulated sugar, or coconut sugar.

2

tablespoon

Butter

1

teaspoon

Vanilla Extract

gluten free

3.5

tablespoon

Water

¼

teaspoon

Salt

½

teaspoon

Cinnamon

2

tablespoon

Milk

Feel free to use almond or coconut milk as a substitute.

¼

cup

Organic coconut flour

Alternatively use rice flour.

¼

teaspoon

Gluten free baking powder
Instructions 
Preheat your waffle iron and wipe or spray the inside lightly with oil.

Melt the butter.

Separate your eggs (but save your whites—we'll be using them later!)

Mix egg yolks, melted butter, milk, water, vanilla extract, and your sweetener of choice in a large mixing bowl.

In a separate bowl, combine coconut flour, salt, cinnamon, and baking powder.

Add dry ingredients gradually into wet ingredients and mix until there are no lumps.

Let batter stand for 5-10 Minutes. If it seems too thick, add 1-2 Tbsp of water.

In a separate bowl, whip egg whites into they form stiff peaks. This can be done by hand with a whisk, or using an electric mixer.

Fold your freshly whipped egg whites gently into your batter.

Pour into a hot waffle iron and cook for 2 Minutes until golden brown.

Enjoy with syrup, berries, whipped cream, or powdered sugar!
Notes
You may also want to experiment with adding small amounts of gluten-free whey protein or flax seed with a splash of applesauce (to maintain moisture balance).
Tips for a better gluten-free Belgian waffle
For best results, let your ingredients reach room temperature before you begin.
Measuring is always important, but gluten-free recipes tend to have a particularly delicate balance of ingredients. Make sure you measure your gluten-free flour carefully!
Use caution while pouring and do not overfill your waffle iron—it will make a mess and waste precious batter.
Need a quick trick to know if your waffle is done? Once the steam stops coming out of your closed waffle iron, it should be ready.
Enjoy your waffles when they're hot off the press—this will keep them from going soggy. If you made too many, freeze them as soon as possible to retain freshness.
Avoid using abrasive metal utensils to remove your waffle from the iron. This will scratch the iron and may affect the quality of your waffles in the future.
If you don't have an iron, you can also use this batter for pancakes!